In this article I'm going to discuss how to create a form in HubSpot and use them effectively. I'm also going to show you a few examples that I've created for my clients.
What is a form in Digital Marketing?
A form is a field (or a group of fields), the main purpose of which is to capture people's information. The idea is when somebody fills in a form, the information goes directly to the CRM, in our case – Hubspot, so that marketers can analyse this data and then nurture these people accordingly.
When visitors submits a form, they became leads. The end goal is to convert leads to customers. Though, forms can also be used for leads and customers to know more about them, it can be a questionnaire or a review of a product.
How to create a form in HubSpot
In Hubspot to create a form go to the menu, click on Marketing – Lead Capture – Forms (for Hubspot Marketing Pro and Enterprise) and Marketing – Forms (for Hubspot Free and Starter).
Then click on Create form button as you see in the below screenshot.

After clicking the button, you'll see different types of forms in Hubspot. Let's consider all these types, so that you have a chance to choose the right one.
Form types in Hubspot
Embedded form – this form type is usually created to insert into your website page directly. With the help of embedded code you can put in this form in a website footer, sidebar or between your content.
Standalone page – Hubspot will create a separate page URL which you can send directly to your contacts. You can also use this URL to insert into your blog and social content. It works quite good when you think that it make sense to send the form only, so that nothing is interrupted your contact from filling this form.
Pop-up Box – the pop-up banner will be appeared in the middle of the page covering everything on it. That's one of the best ways to attract attention, though be careful, sometimes using this form can make your visitors nervous because of interrupting from reading your actual content. In HubSpot you will have an ability to set up the appearance of this form based on page scrolling, time spent on a page or at exit intent.
Dropdown Banner – the banner appearing at the top of the page (full width). It's good for some announcements or contests. In this form type you'll not be able to use image, just a plain text.
Slide in left box & Slide in right box – another pop-up type of forms that arise in the bottom corners. You can choose a left or right side of a page. This from also can be appeared based on criteria set up by you: page scrolling, time spent on a page or when a visitor is going to leave this page.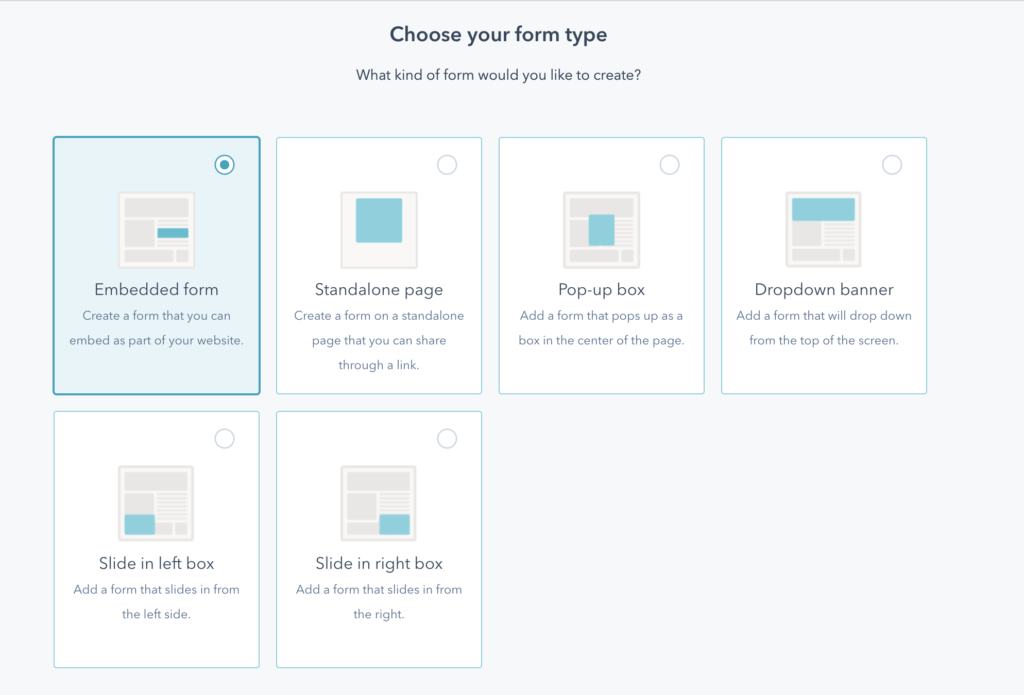 What I want also to stress, is that if a visitor declines a pop-up form (click on cross), it will not be appeared anymore for some period of time. On the other hand, if a user ignores a form, it will be appearing till the action is done (either declining or submitting).
Choosing Form Templates
After you've chosen a form type, HubSpot is suggesting you to choose a template (based on a form type templates can differ). In my example I've chosen the Embedded form.
The Form Templates are not fixed, it is just a starting point for your form. Feel free to customise a form based on your needs. You can also choose a blank template where you will create a form in HubSpot from scratch.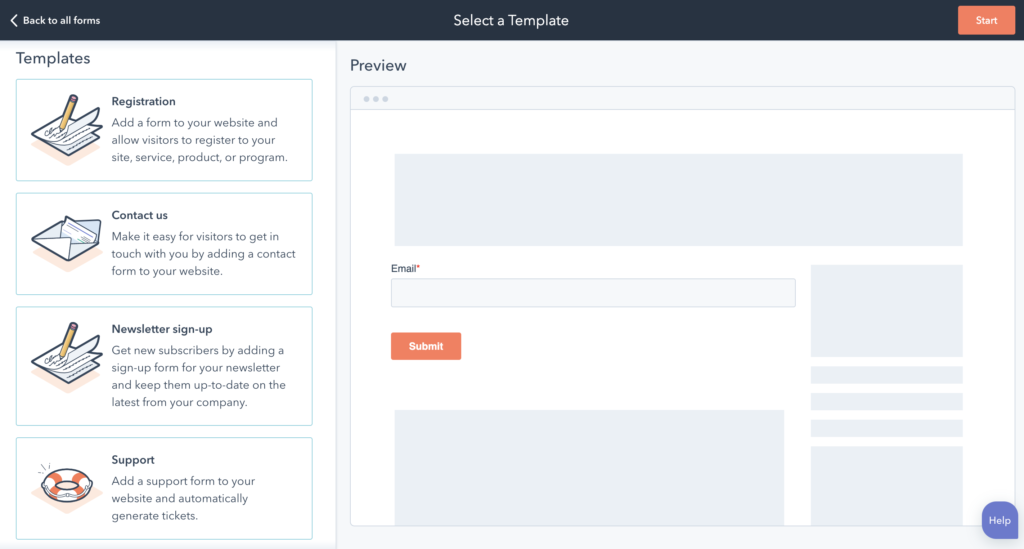 I intend to choose a Newsletter sign-up form, just choose the left side Template and click on Start on the top right.
In the appeared window you will see your form. On the left you can choose the existing properties, add them to your form on the right side of the screen. Choose a tab Create New, if you want to create a new property from this screen. It's a user friendly approach, instead of going to Settings – Properties, you can just create a new property fast here.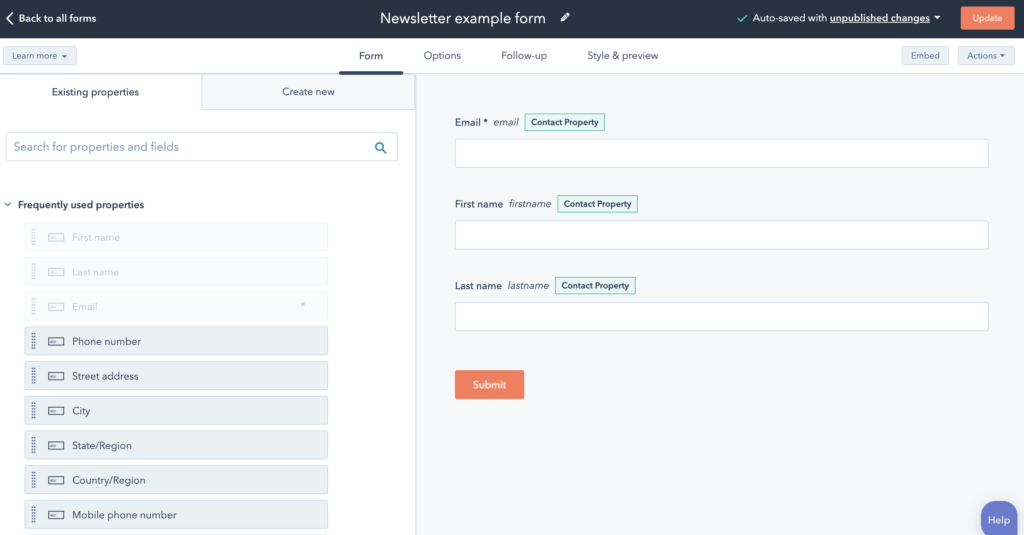 Email Field is a King in Hubspot, without knowing Contact's email, it will not be possible to use Workflows, Email Campaigns etc. All other fields can be ignored in terms of technical using of HubSpot software.
Of course, it's better to know First Name of a contact as well, so that you're able to personalise your campaigns. The conventional wisdom says that the more information you know about your contacts, the better.
Although, speaking about Newsletter form, I don't recommend using many fields. As Subscription is usually just the beginning of a Funnel, visitors are usually not ready to provide much information about them. And all people are also lazy:) Just remind when for becoming a Subscriber, you are requested to fill a long form, what do you do? I think, just ignore this form:)
So, I recommend to use 1 or 2 fields at this moment. For my website Velainn I'm using Email and First Name fields for a Newsletter Form.
Okay, go to the Options Tab.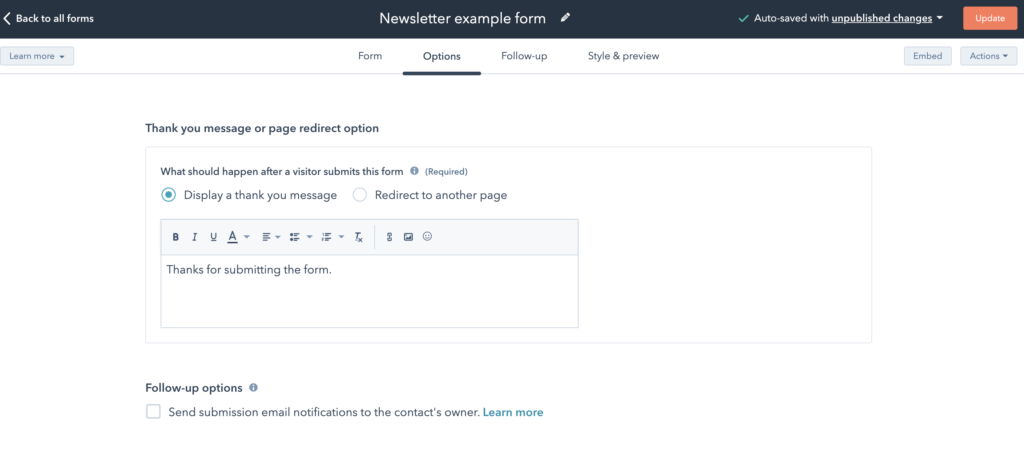 In this Tab you can choose either a Thank You message or Thank You Page after a visitor has submitted a form. It's up to you what to choose. Thank You page is a good option too, as a part of a Funnel, just don't gorget to create a cool Thank you Page in advance. Then just put in a link to this page at the Options Tab.
In the 2nd part of the Options Tab, choose an email home to send submissions to and a language. Usually these parameters are set by default.
Other submission settings
Always create contact for new address – click on or off.
Set contacts created as marketing contacts – if turned on, these contacts can be used for marketing activities: email campaigns, workflows. Click on but don't forget to check your Hubspot tier, marketing contacts are a paid option and the total monthly or annual Hubspot price is also based on a number of Marketing Contacts.
Add link to reset the form – I usually turn it off.
Pre-populate contact fields with known values – if turned on, the values will be overwritten by known values and the default values will not be overwritten. If you need more info, you can read the tutorial. I usually remain this field by default.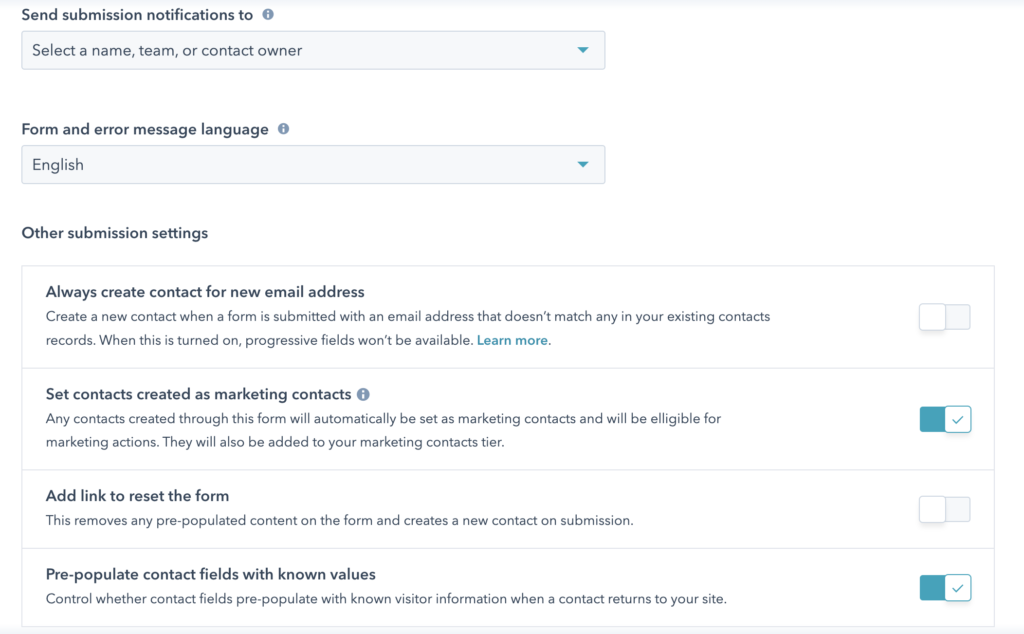 In the Next tab called Follow-Up, you will have a chance to create a simple automation. In the Hubspot Free Package you will be able to create a single automated reply to the contact who submitted a form. You can use it as a Thank You message as a first touch with your contact. Which is great, you've started engaging your Subscriber right away!
In Paid Hubspot Tiers there will be more messages that you can set up here to send automatically.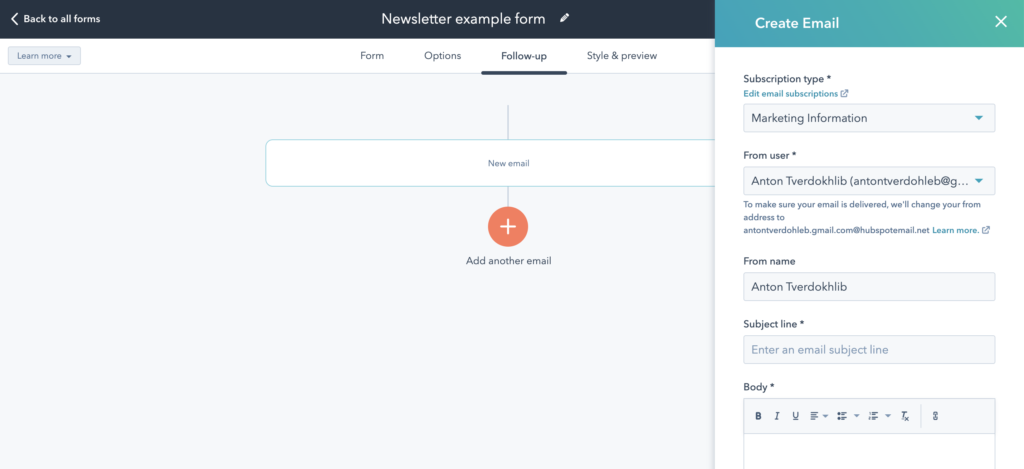 In the Style&Preview Tab you will have a chance to style your form based on your company's corporate styles. Make bigger / smaller button, change colours, width and other parameters, so that the form looks good at a website and be aligned with your branding.
After styling your form, test how it looks at Desktop, Tablet and Mobile devices.
When it is ready, click on Update on the right top corner, and we're done! You can click on Embed, copy the embedded code and insert into your website!
No worries, if a form doesn't suit your website well, you can customise it and update again. Your form will be updated at Hubspot and your website as well.
If you need any help with creating and incorporating Hubspot forms to your website, Contact Velainn, We'll be happy to help.