B2B Digital marketing streamlined by the right automation can be game-changing for businesses. To succeed, companies have to generate leads, nurture and convert them to customers. Then these customers must be nurtured as well to become long-term promoters of brands. To achieve these goals, it's common to use nurture, follow-up and other campaigns with the help of Marketing Automation for B2B.
Marketing Automation for B2B using industry-leading CRM software Hubspot, with the help of HubSpot Solution Provider experts, can make your business stand out in the market. When done properly, marketing automation can increase productivity, reduce cost, and personalise the customer experience, ultimately leading to your B2B business's growth.
Marketing Automation for B2B Using Hubspot Workflows
Hubspot is a powerful all-in-one platform for sales, marketing, service automations and more. With the help of HubSpot it's possible to create intelligent automated workflows that can be set to complete tasks like sending personalised emails to a potential client that have just submitted a form. These automated workflows can perform various sales and marketing tasks triggered by various conditions.
Marketing automation for B2B is done using these HubSpot Workflows. It allows creating both simple B2B Marketing Campaigns and complex formula-driven automations with the help of HubSpot Operations Hub. Convenient CRM allows keep all your B2B contacts and Accounts inside HubSpot, and enroll them in Workflows using triggers. For example, when a Contact has not completed another Workflow, they can be enrolled in a Workflow where they will have a chance to get nurtured.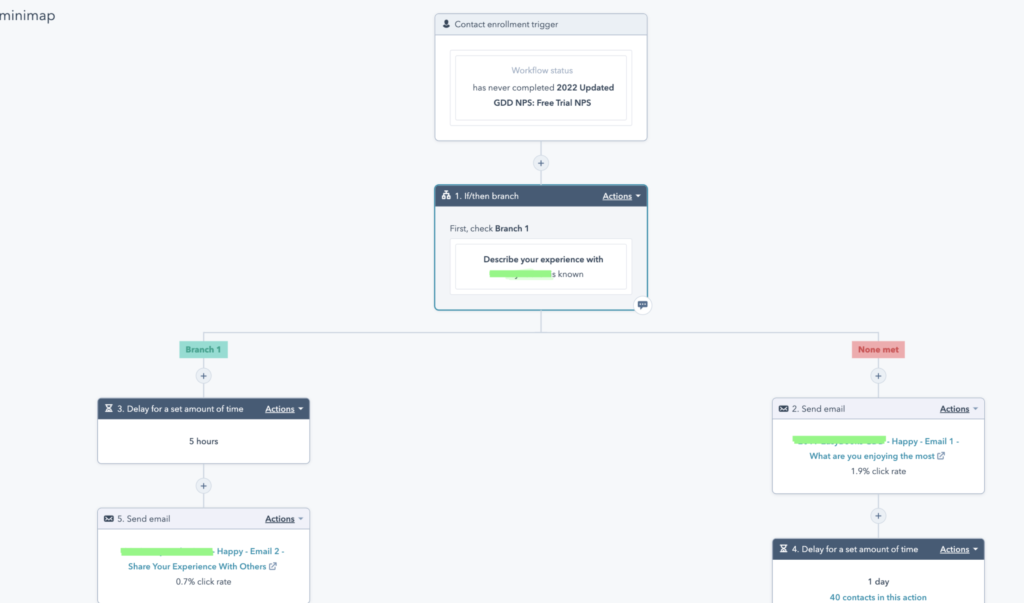 Not only that, using HubSpot can help in many ways, including tracking, examining real-time sales activity, providing an organized CRM database for various contacts, and data syncing and prospecting tools.
Working with HubSpot B2B expert can be extremely helpful to optimally utilise CRM management using HubSpot and ensure that workflows are designed right for your business.
Schedule a Free Consultation to discuss Automations that can help your B2B business.
An expert company that provides HubSpot services and is specialized in customer relationship management can give your business many benefits.
B2B Marketing Automation – 3 simple examples
When creating an automation, you should know the goal of this automation. Workflows can send internal notifications, update properties, send emails set up on specific time intervals, doing different calculations, work with integrations and so on. Check some examples of Workflows below:
1. Welcome new subscribers
This is one of the most common Workflows, after visitors submit a Subscription form, they will receive a Thank you message and get enrolled into an initial Blog Subscription Flow.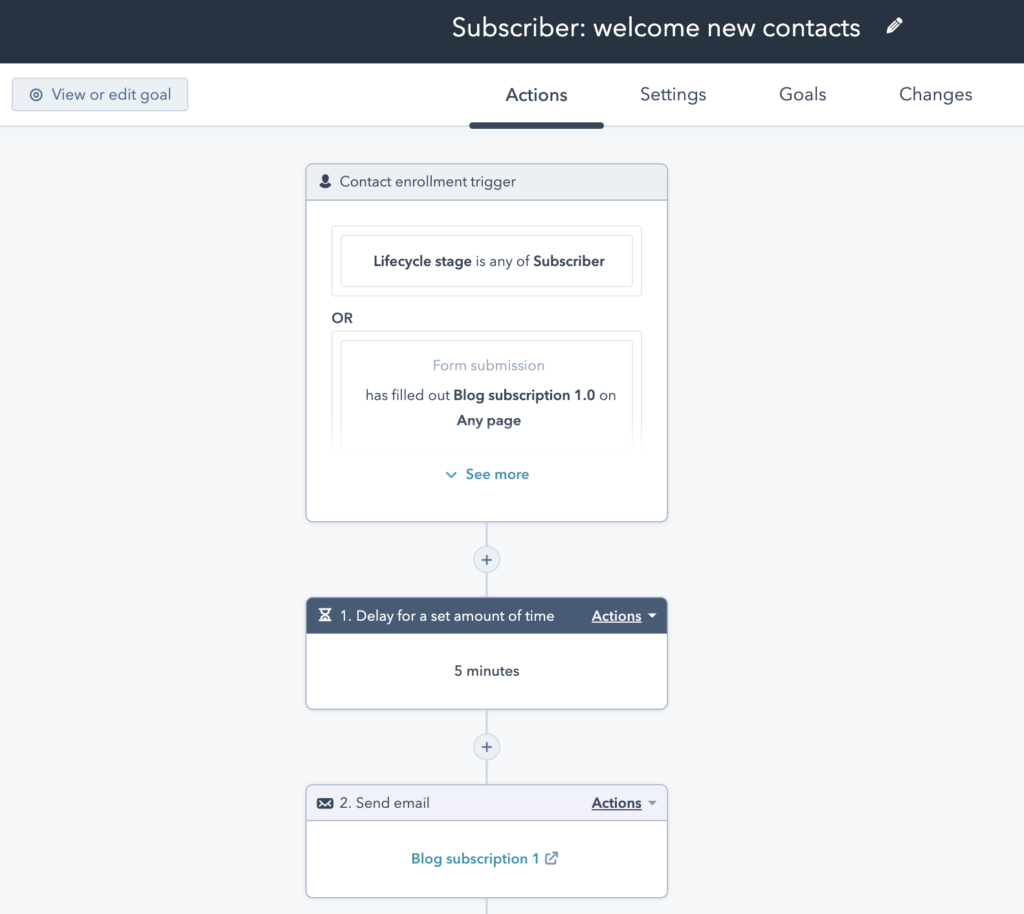 2. Send Slack Notifications after a new lead is converted
In this case you need a Slack integration. After a lead converts at your website, it's possible to set up HubSpot, so that it notifies a specific person or channel in Slack about this action. In this case, your employees can act accordingly, for example – conduct a Lead Qualification process.
3. Copy properties between Objects
In HubSpot you can copy properties between various objects such as Companies, Contacts, Deals and other. In B2B business and Account Based Marketing the target is company. When a company Lifecycle Stage changes, it's possible to copy this property to the same property of associated Contacts instead of doing it manually. Thus your company will save time and budget on manual operations.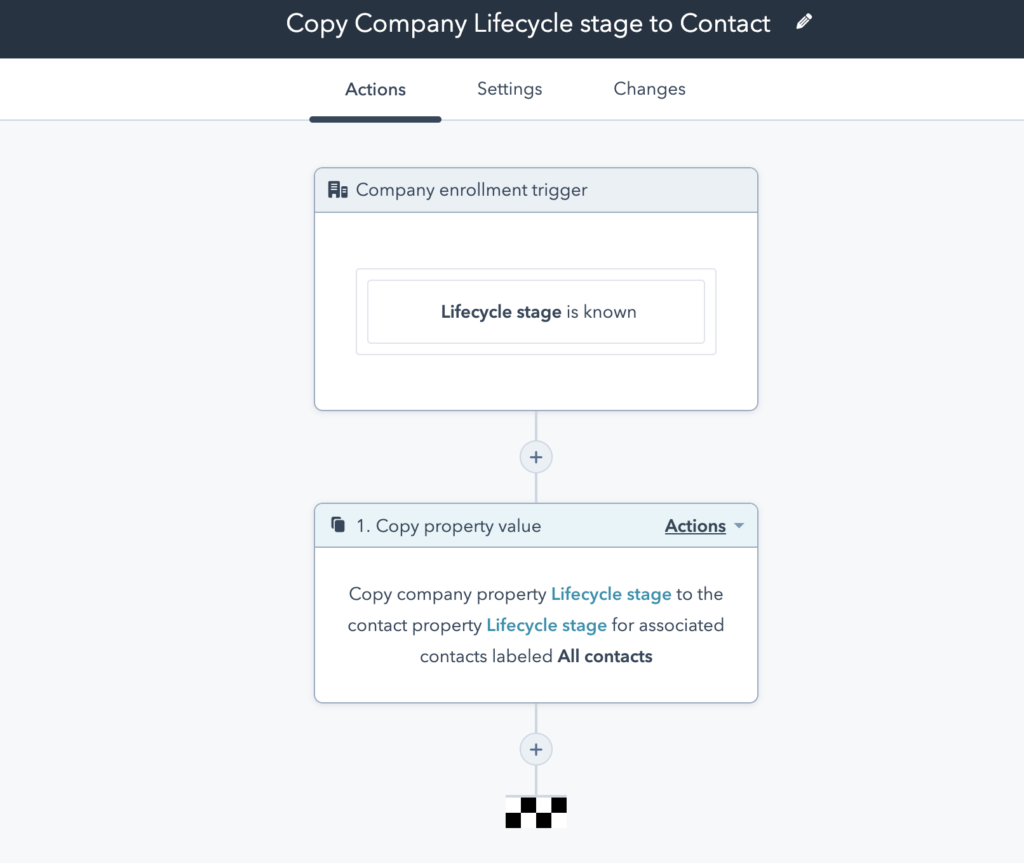 Efficient use of Hubspot
Whether you use the free, starter, or pro plans of HubSpot, we can help you with the efficient use of that plan for your business. Hubspot hosts various features which, if utilized correctly, can make all the difference in determining your business's success with the platform.
Setting up marketing automation for your business using HubSpot and determining how leads are filtered in your sales pipeline requires time and resources. In this case, getting help from an expert can help you make the most of your HubSpot plan by optimizing your HubSpot environment. Because it is such a robust platform, it is best left to the experts to set it up properly according to your goals.
Effective Conversion Funnels
An effective funnel can help turn your prospective consumers into paying customers. If your business has a straightforward sales process, setting up a competent sales funnel with a lead magnet is something we advice to do. Sorting a complex sales funnel to the correct salesperson requires expert knowledge.
Velainn will help you set up an effective sales funnel by meeting your goals, qualifying and then nurturing leads, setting up communication, and creating a lead generation magnet. This is a vital step in setting up marketing automation for B2B.
Business Specific Automation Strategy
As mentioned earlier, HubSpot is an extremely robust platform. Not every service and feature in your HubSpot plan will be pertinent to your business. Experts can help you set up your HubSpot plan according to your business's specifications, needs and goals; you can handle all the daily operations, including sales, marketing automation for B2B, and customer service.
Alignment with Marketing and Sales
Turning a lead into a customer takes a lot of effort, and marketing plays an integral role in helping your business engage and close leads. Building leads and nurturing the leads into potential customers is a fragile process.
This calls for your marketing automation and sales to be in line. Expert agencies such as HubSpot can help align your marketing and sales strategies and set your business on the road to success.
Conclusion
B2B Companies must use marketing automations to save time and budget. Thus your company will have a 24/7 employee working for your business. There are many automations in HubSpot, that businesses can use, to ensure that they are equipped to handle new leads and incoming clients and manage email campaigns, among other things.
We recommend to rely on professionals in B2B Marketing Automations, Schedule a Free Consultation with us to check how we can help your B2B company automate business operations.