Investment bankers and venture capitalists use the term "deal flow pipeline" in their sales process starting from a prospect analysis and ending by closing an investment deal. The rate of deal flow is more of a qualitative measure than a strict quantitative one. Therefore, a deal pipeline is used to demonstrate how well business is going.
One way to easily keep track of your business's performance is by using HubSpot CRM. The deal pipeline feature can instantly add all your in-process deals while ensuring the pipeline never stops. Setting up HubSpot is easy, and it will help you reduce the margin of error as you will make decisions or take action based on factual data.
Analyzing the Deal Flow
Deal flow may include venture capital investments, private placements, syndication, initial public offerings (IPO), and mergers and acquisitions, among others. Despite the fact that large investment banks may oversee the bulk of these activities, specialist financiers such as venture capitalists often focus on the transaction flow.
In such scenarios, CRM software like HubSpot lets businesses take a lot of different actions, and it's meant to be an important part of marketing, sales, and internal management. You will most certainly not lose a customer if you're using HubSpot to detect bottlenecks in your pipeline.
Building Your Pipeline with HubSpot
When you add new deals from an existing contact or business record in the HubSpot CRM, the deal pipeline refreshes itself immediately. This helps to eliminate unnecessary data input to get the most recent data sent directly to you.
How can HubSpot Deal Stages facilitate sales efficiency?
Deal Stages in HubSpot are the distinct phases inside the sales pipeline. The sales pipeline details the processes that each sales prospect must follow prior to closing a transaction and becoming a client. Every deal stage comprises a separate phase of the consumer experience with the Sales team, from the first discovery call through to the quotation signature and closing a Deal.
What does an ideal deal flow look like?
To ensure that your prospects are flowing seamlessly through your pipeline, you'll need an effective CRM that manages data effectively. With Hubspot's Deal Pipeline functionality, you're doing just that, and much more. For instance, your deal flow pipeline should
– Collect and manage all incoming data centrally;
– get aligned with your marketing efforts;
– keep track of all activities connected with this specific deal, such as calls, emails, meetings, and more;
– get connected with companies and contacts associated with this deal;
– provide ability to adjust fields such as amount, deal owner, deal source, and more;
– choose best types of pricing models to fill of reach deal, for example – static number, MRR, ARR and more;
– provide ability to analyse deals through various reports;
– forecast sales trends to help you act proactively, and
– be customizable to your specific needs.
Configuration and Modification of HubSpot Deal Steps
HubSpot provides their default Deal Stages, so if you are happy with them, you can use the Sales Flow Pipeline right away, if not – it's possible to make the Pipeline aligned with your internal Sales process.
You can take the following easy-to-take steps for configuring and updating HubSpot Deal stages.
– To locate the HubSpot Deal Stages, go to Sales > Deals.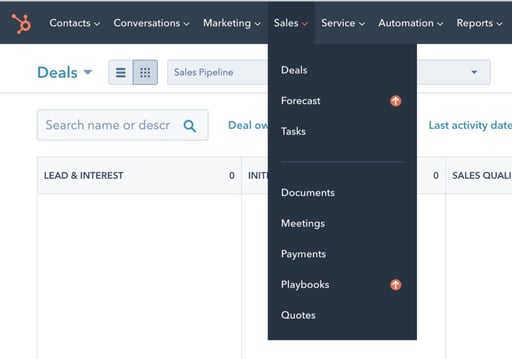 Click on Board Actions – Edit Stages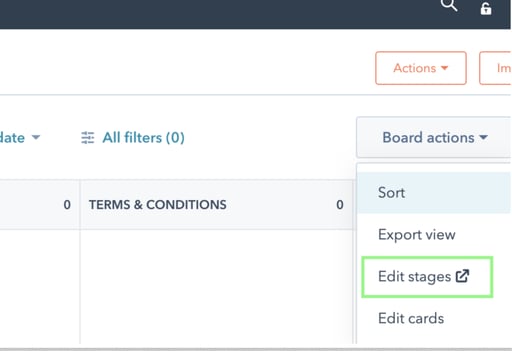 In the appeared settings tab you can change the Deal Flow Pipeline stages as you need. Based on your Subscription you can create more Sales Pipelines. Free Tier allows creating a single Sales Pipeline, while Hubspot Sales Starter adds one additional Pipeline and Hubspot Sales Professional Hub allows creating multiple pipelines.
One of the tips in creating a Pipeline is a Record Customisation:
– If you go to Settings – Objects – Deals, you can see some nice settings you can customise. For example, a look of your Deal Cards, you can choose which properties you and your team see on each Deal Card.
– You can also adjust required fields for a sidebar appeared when Deal is being created
– another great option is adding a pop-up window when a Deal is pulled to another stage, for example – if you create a Lost Deal reason property and add it to Closed Lost stage, when a Deal is moved there, everybody in your team will see a pop-up pushing to fill a reason of losing a Deal. After that, you will be able to analyse it and make corrections to your process.
Why is a deal flow pipeline important?
As we saw, a deal flow refers to the quality and number of investment possibilities that you discover. Building deal flow is essential since making sound investing selections depends on your exposure to many opportunities and the selection of the best ones to pursue.
How do you develop an effective deal flow?
While you can try to configure Deal Flow Pipeline yourself, to get higher and faster results, I recommend to work with a certified HubSpot Service Provider. Our company is providing HubSpot Sales Enablement services, and I will be happy to help you make your Sales process better.
Book a free consultation with Anton, Founder at Velainn to discuss the details. You may decide to work with us after, or set up HubSpot yourself using advices of the experienced Hubspot Service Provider.
I also recommend to contact me before subscribing to any of paid plans, because I will be able to consult you on the best options in terms of price and features based on your unique business case.
The importance for Venture Capitalists
Venture Capitalists (VCs) serve as the bridge between ambitious but short-on-cash entrepreneurs and deep-pocketed but deal-hungry investors. VC funding firms give start-ups the capital for business development in exchange for a share of the business.
In reality, VCs take on a lot of risk with all that money shelling. A healthy deal flow pipeline, then, comes to the rescue to control, or rather minimise, the amount of risk. It is now a well-known fact that VCs only close about 1 in every 101 deals they initially encounter. To sustain such low ratios, there must always be a healthy number of deals in the pipeline.
Conclusion
You should remain aware of jumping at the first prospect that presents itself. Maintaining a healthy deal pipeline ensures that you have the right quantity – and hopefully the right quality – of prospects to make an informed decision.
Hubspot's Deal Pipelines and Deal Stages functions make it easier to manage this elephantine task so you can rest assured that you have the information you need to close the right deal. And you can start using basic Deal Stage functions with HubSpot for free.
Get in touch with us to set up HubSpot and develop a strong relationship with your customers.